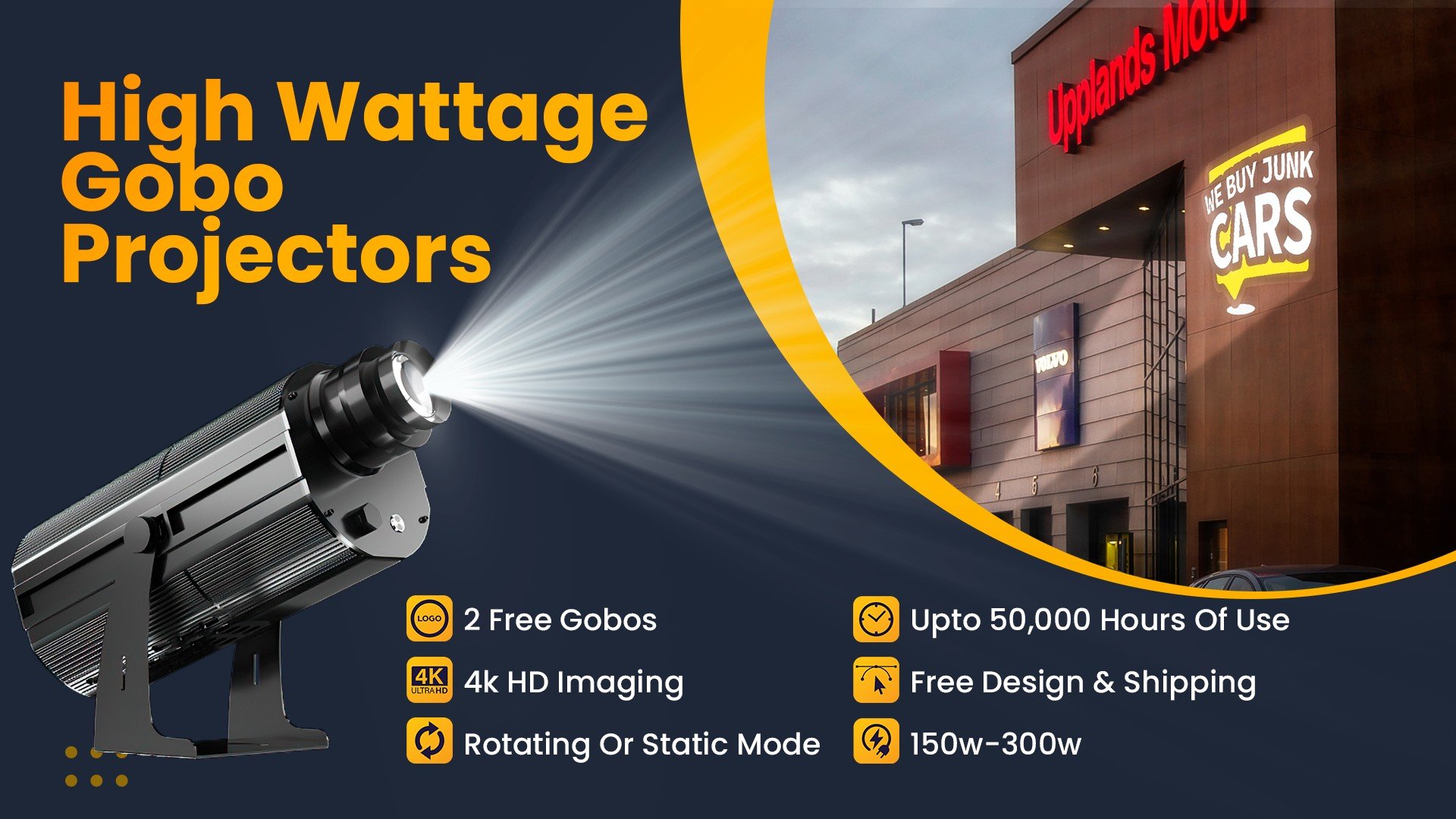 Premium High Wattage GOBO Projectors
Check out our collection of premium high wattage outdoor GOBO projectors that illuminate your company logo or advertising message in an outdoor settings. These powerful projectors use GOBO technology that allow you to insert and replace your logo or graphic into the projector. The logo can be set to rotate or to be still, making these the perfect LED light and logo projectors. Our high wattage machines are available in 150w, 200w and 300w. They are perfect for projecting your advertising message on the side of buildings, festivals, concerts, sports events and trade shows. They are also perfect for displaying your holiday spirit for Christmas, Halloween or New Years Eve. They are ideal for any setting that you want to be noticed.  
Each LED light projector includes 2 FREE custom GOBOS. You can get one full color GOBO and one 1 color GOBO. You can also order additional custom or stock GOBOS, which will allow you to change your logo or advertising message on a daily, weekly or monthly basic. The projector is waterproof and can endure high temperatures. A free remote control allow you to easy control the rotating and stationary settings for a look that is ideal for your business.  We will be happy to design your custom GOBO for you if you need help. Our price also includes free shipping to one location. 
Premium High Wattage GOBO Logo Projectors For Buildings
Premium quality, high wattage custom logo projectors. Our outdoor LED light GOBO projectors are perfect for projecting logos on the side of buildings, sporting events and in retail settings.
Premium Quality High Wattage GOBO Projectors
Our outdoor logo projectors illuminate your logo in lights while providing a custom
High Wattage Projectors Are Perfect Alternatives To Billboards & Safety Signs
Stand out from the crowd and let your imagination be the limit with our high wattage custom logo projectors.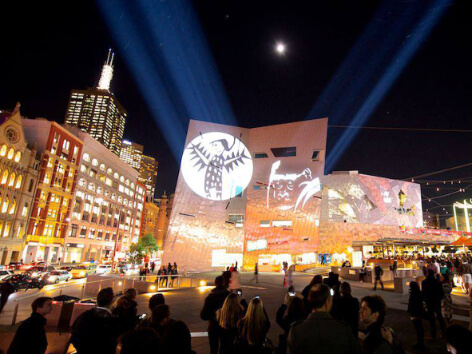 Premium High Wattage OUTDOOR GOBO PROJECTORS - Tomorrow's technology is here today
Customized GOBO Projectors have been used for years in weddings, they are now starting to be used in innovative ways all over the world. The imagination and creativity is the limit. Why stick to traditional advertising mediums, where for a fraction of the cost, you can display your logo or advertising message in lights? They can be used as mini-billboards when you project your message in exterior settings which includes the side of a building. Some projectors can even project on water, glass windows and other surfaces. 
Stand out with your own personalized LED logo projector which can be set to a rotating or static mode. While traditional GOBO projectors only had a static setting which simply showed the logo, name or message in a stationary mode, our outdoor projectors will keep your logos rotating like an infinity symbol spiraling into the night. 
Select Power :
Price : $
300 Watt High Wattage Led Logo Gobo Projectors
Our premium 300 Watt outdoor high wattage projector is the most powerful GOBO projector that we offer. Perfect for outdoor use, where your logo is projected in a distance. Includes 2 FREE GOBOS. Free Remote Control. Free Shipping.