150w Gobo Projector
High Wattage Gobo Projectors For Outdoor Use
When you require more wattage output, Infinity Projector's premium outdoor rotating Gobo projector offers a strong, far-reaching HD projection of your logo. Equipped with 200 watts of power.
this projector will allow projections of up to 130 feet in a dark environment.
 The indoor or outdoor advertising projection lamp employs 4k HD imaging and LED technology to illuminate your logo on almost any wall, floor, or surface. The high wattage ad projection lamps are perfect for outdoor locations that call for stronger projections, such as the sides of stadiums and schools. . It is ideal for projecting on building facades, sidewalks, special occasions, or even holiday displays in public places including parks, churches, or community centers. In addition, projectors are ideal for use for real estate projections, virtual signs, and other innovative and creative applications. This projector, which comes in black or silver, may be used both inside and outside. With a cooling fan, the waterproof outdoor logo projectors may be used for more than 50,000 hours in heated environments without overheating. The projector is easy to set up because it is portable and powerful. After attaching the projector, adjust the projection's position.
You get 2 Free Gobos with every purchase, allowing you to switch out and rotate the projected artwork. You can select the right wattage to meet your needs. The projector wattage required will depend on the distance of the projection and the quantity of light present.
When using a led projection, the combination of the rotating option for your logo, pattern, or advertising message and the LED HD illumination of the logo immediately attracts attention. The possibilities with this emerging type of advertising are essentially endless. Your imagination is the only limitation.

What Is A Gobo And How Does It Work?
A GOBO is a small circular slide will be etched with your logo, sign, or advertising message. The gobo is inserted into the rotating advertising projection lamp, and when it is turned on, the LED lights shoot the advertising image towards any floor, wall, or ceiling you can think of. To replace the messages, simply change the gobo slide. The gobo is initially black, but you can include a transparent background by keeping the artwork black in the areas that should be clear.
About This LED Logo Projector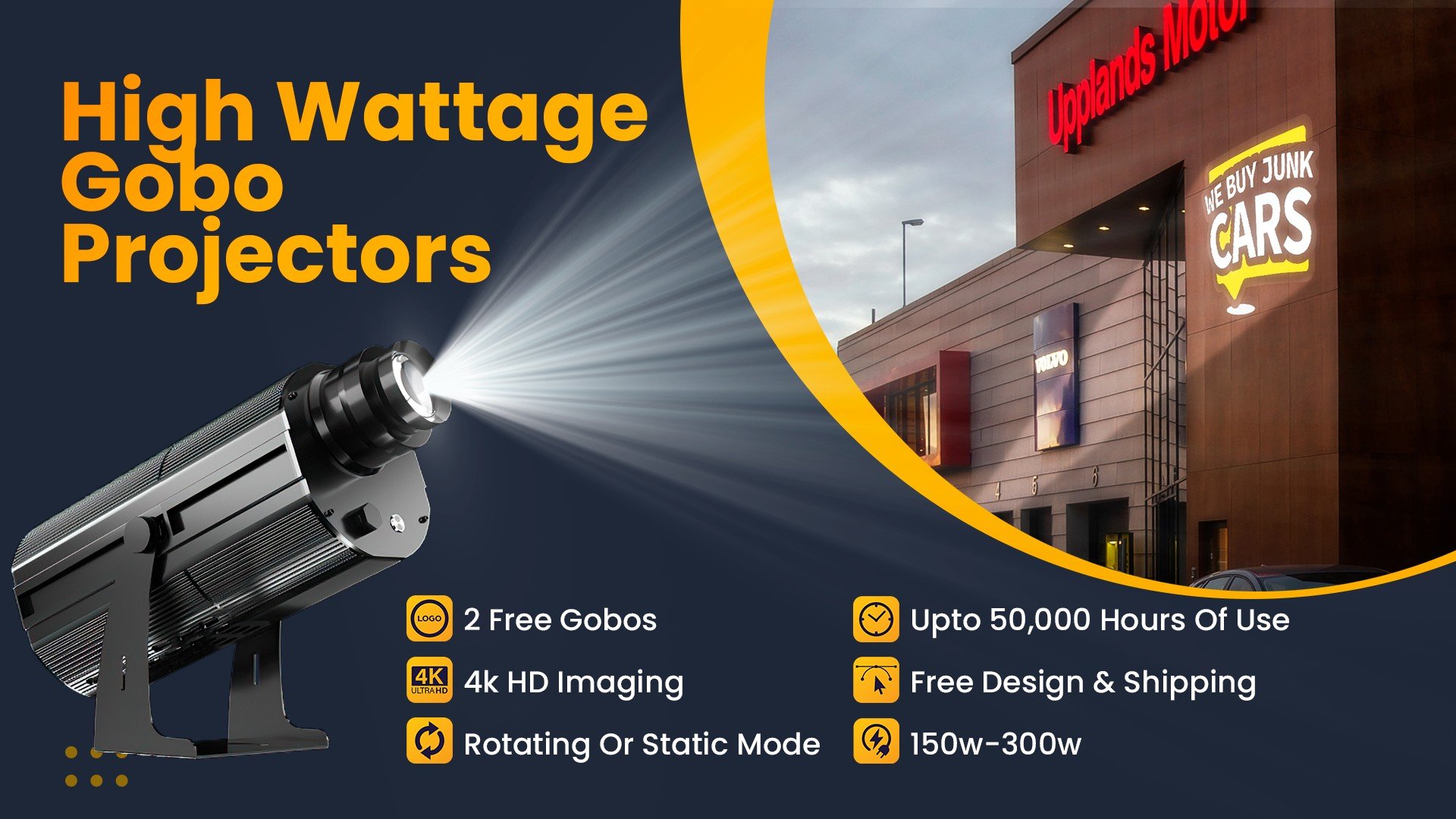 Outdoor LED Logo Projector
Includes 2 Free Gobos 
WATTAGE : 200 Watt

Estimated Range : Up to 130ft (in the dark)

Outdoor & Indoor Rotating Logo Projector

Waterproof

Free Remote Control

AVAILABLE COLORS : Black & Silver

50,000 Hours Of Use

Free Graphic Design
Free Shipping

2-3 week turnaround 

2 Free Gobos With Every Gobo Projector Purchase
Our custom gobo projectors let you change your logo, sign, or advertising message by swapping out the custom glass Gobo discs. Whether you are a banquet hall that offers custom wedding gobo projections as a service or a restaurant that wants to show a different message each night, when you order one of our gobo projectors, you will get a second custom gobo for free. Get one full-color custom gobo and one single-color gobo for free. For an extra $25, you can upgrade from 1 color to full color on the 2nd Gobo. You can print your own custom Gobo or choose one of our stock Gobo designs. If you need help, we will even design the Gobo for you for free.
Custom Full Color Or 1 Color Gobos
One Color Gobo:
One color gobo allows your logo to be projected in one of the colors available in our new color pallet options, which can be viewed below. Any color that does not fit within this color pallet will require the full color option. You should leave the part of the design that you want to be transparent black in the artwork.
Full Color Gobos:
Our custom glass gobos can be printed in full color. You can reproduce any full color picture, logo, illustration or gradient  in CMYK color for vivid 4K HD imaging For optimal quality, files should be created and saved in a vector format. Art should be submitted in PDF or PNG format and saved in CMYK color mode, with a resolution of 300DPI.
Flexible Promotional Tool
You have the option to move the LED light logo projectors' positioning and location with ease. Since all outdoor projectors are waterproof, they may be set up indoors or in an outdoor setting. You can quickly replace your logo or message thanks to the GOBO's detachable design. Banquet halls, trade exhibits, DJs, and other businesses who would benefit from a unique way to display their brand or message through cutting-edge LED lights.
Free Graphic Design
Need help bringing your idea to life? We will design your gobos for free. Simply place the order and provide us with your logo, names and a general description of what you are looking for, and we will do the rest.
Free Shipping
All  projector prices include free shipping to the United States or just about anywhere else in the world.
Pick an Infinity Projector that is just right for your needs.
The distance that your projection will need to project as well as the the lighting in the projection location will determine the wattage that your projector will require. The lighter the area where the logo is projected, the more wattage that will be needed.
 

We offer both indoor or outdoor projectors that are available with various wattage options.